Onshore work progresses on connection to the Ostwind 2 offshore wind grid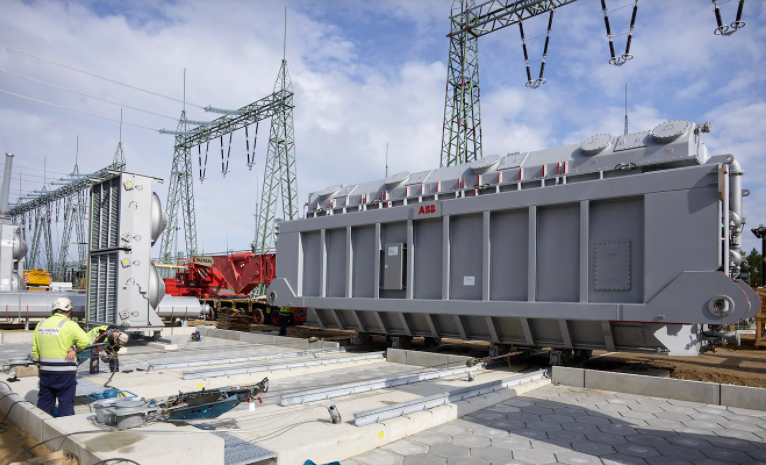 50Hertz has announced that new transformers for the onshore substation of the Ostwind 2 offshore grid connection project have been delivered. The Lubmin substation was first enlarged and, with the new transformers, its transport capacity is now extended.
Preparatory work for connecting the transformers is currently underway, including the installation of cooling systems and the filling of insulating oil. Subsequently, the first functional tests will be carried out and the transformers should be ready for operation by the end of this year.
Once completed, the connection to the 750 MW Ostwind 2 grid will link the Arcadis Ost 1 and Baltic Eagle offshore wind farms to the German electricity grid.
The electricity produced by the two offshore wind farms in the Baltic Sea will be transported via three 220 kV submarine cables to the transformer station, then transformed and injected into the 380 kV grid.
The conversion and transmission of electricity to the German high voltage grid takes place at the Lubmin substation, which is also the grid connection point of the two operational offshore wind farms Wikinger and Arkona.
Since the capacities of the existing transformers are not sufficient to convert the additional energy from Ostwind 2, the additional transformers now delivered will make this possible.
50Hertz started installing the submarine cables for Ostwind 2 earlier this year and completed the pulling of the land cables for the connection to the offshore grid last month.
The 257 MW Arcadis Ost 1, developed by the Belgian company Parkwind, is located in the West cluster of Arkona. The wind farm is located about twenty kilometers off the island of Rügen. It will include 27 Vestas V174-9.5 MW wind turbines scheduled for commissioning in 2023.
The 476 MW Baltic Eagle, the project of the Spanish energy company Iberdrola, is located in the Arkona Sea cluster. The wind farm is located about 30 kilometers off Rügen and about 90 kilometers off Lubmin and the onshore substation on the Greifswalder Bodden.