Nordex records 500 MW of wind turbine orders in Finland in 2021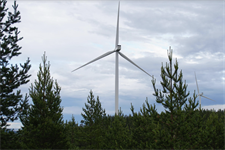 [ad_1]

Nordex has secured an order for 199.5 MW for four wind farms in western Finland, bringing its annual total for the market beyond 500 MW already.
It will supply N163 / 5.X turbines to four projects in the interior of west-central Finland, as well as in the west of the country, near the coast in the Ostrobothnia region.
They will be delivered in 5.7 MW operating mode on tubular steel towers, with hub heights of 148 and 159 meters. Delivery and installation are scheduled for spring and summer 2022, with delivery scheduled for late fall. Nordex will then provide the service for 30 years.
The latest order means that Nordex has announced just over 500 MW of turbine orders in Finland so far in 2021.
In May, she announced an order for Energiquelle 45.6 MW Lumivaara Lumivaara (45.6 MW) DownHyrynsalmi, Kainuu, Finland, Europe Click to see all the detailsproject in Kainuu. In April, she announced orders for 28.5MW Takanebacken Takanebacken (28.5MW) DownMalax, Finland, Europe Click to see all the details in Malax and 39.9 MW Torvenkylä Torvenkylä (39.9 MW) DownKalajoki, Finland, Europe Click to see all the details in Kalajoki. And in January, he announced an agreement to provide wpd 188MW Karhunnevankangas Karhunnevankangas (188MW) DownFinland, Europe Click to see all the details.
Nordex supplied turbines for 781.4 MW of operational wind power capacity in Finland.
Other manufacturers have also seen success in Finland recently, with Vestas securing an order for 102 MW earlier this month and GE an order for 88 MW in May.
[ad_2]

Source link