Letters from readers, June 13, 2021 | Notice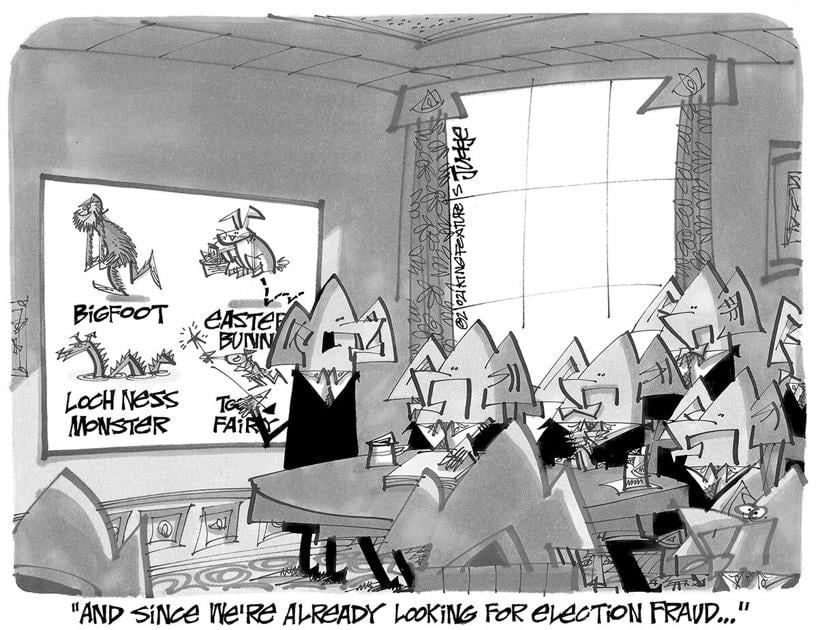 [ad_1]

More than ever, we need to know who we are electing. There is no more room for empty promises from rehashed politicians.
A Psychology Today article states that "the disruption of education during this pandemic will have disparate effects on the socio-economic scale." It's unfortunate because California ranks in the bottom 10 nationally in K-12 education.
I have parents in other states where schools are open and kids are learning, so we can't blame our teachers. The California Teachers Association (CTA) has crossed the line. They have made the choice to educate our children in politics which is then reinforced by politicians who accept their endorsement and contributions.
Christy Smith is one of those politicians awaiting protected approval. She takes money and returns favors like when she was looking for a policy to make charter schools' compliance untenable. She said on video, "I'm not a fan of charter schools.
Charter schools help disadvantaged urban youth. According to an article published by Mathematics Policy Research, charter schools have a higher graduation rate than public schools. Also according to the Daily News, 2020, 82% of charter school graduates are eligible to attend four-year college compared to 62% of California public school graduates. A former president of the American Federation of Teachers established charter schools to improve public education.
The CTA works against choice in education and rehashed politicians are forcing them to do so. The CTA wants to either close the Charters schools or to organize and control them. Why?
To really help our young people, all avenues of education must be available! Disadvantaged young people should have similar opportunities. A child's education should not be limited by political interests and harsh politicians.
Congressman Mike Garcia supports Choosing School for a Better Future for Our Children and so should you.
World Wind Day takes place on June 15, which gives us a perfect opportunity to reflect on the positive impact wind power has had around the world and here in Mojave.
California is renowned for our state's commitment to innovation and protecting the environment, so it's no surprise that we are a world leader in the commercial adoption of wind power. As a local resident and employee of EDP Renewables' Rising Tree Wind Farm, I can tell you that wind energy powers more than our homes – it powers our economy.
The Rising Tree Wind Farm has been producing clean energy since 2015. Since its inception, the wind farm has contributed approximately $ 17.5 million in new local tax revenue that can be used to fund schools and other essential public services. . The project has also paid more than $ 34 million to local landowners who lease their land to the project, providing them with peace of mind and a stable income that they can reinvest in their community.
Approximately 139 full-time jobs were created during construction of Rising Tree, along with 13 long-term operating jobs that will last the life of the project. About $ 55 million has also been spent within a 50 mile radius of the farm since development of the project began.
The Rising Tree Wind Farm has provided many benefits to our community, county and region. As we celebrate World Wind Day, it's important to remember the positive economic impacts that wind power has already had in and around Mojave.
Response to justice from Clint Davies, dated June 5.
Mr. Davies, I have been on the George Gascón recall for months and would like to correct your erroneous comments that this recall is being led by Sheriff Alex Villanueva. It's not.
It is led by concerned citizens in each country that it affects the way of life.
Criminals take over because they feel they can and will get away with the behavior. I'm sure the people who voted for him didn't think that would be the result.
As far as Paul Tanaka is concerned, I never saw any reference to him. Yes, I am sure we have negative elements in all areas, but it is not about that.
It's about putting criminals behind bars and keeping them there so the right people aren't afraid to leave their homes.
Hope you do more research in the future before writing a letter.
Recently I hear the initial shock of the projectile launch coming out of the mortar tube, then two seconds later, boom!
Depending on the wind, I can have sparks and debris raining down in my yard.
As a young child in Illinois, my family traveled to Florida every spring for vacation.
On our return we would stop at fireworks displays in Alabama and South Carolina. The South had better explosives than Illinois.
One year when we got home it was late at night and for some reason my dad was eager to try out the bottled rockets.
He lit them all at the same time. They flew over our neighbors' house and exploded in a loud and luminous cacophony.
He waved us all around the house as the lights in our neighbors' house came on.
It was about as youthful as I had ever seen my dad, but when I was six I thought he was the coolest.
When we moved to Hawaii a few years later, things from China put American fireworks to shame.
The rolling thunder would start after noon on New Years Eve and continue unabated until dawn. Earthmovers were needed in addition to street sweepers to remove waste paper the next day.
One year the wind was absent and the air quality became a health hazard, but it looked cool to a child.
Every year you hear a report about kids losing eyes and fingers, or some poor sap that made her eardrums pop, but that didn't slow down the festivities.
My only solution is to put on some Bose noise canceling headphones with soft music and keep the garden hose charged to put out spot fires.
Enigmatic lawmaker Joe Manchin works desperately trying to appear devoted to fairness and two-party politics. He works tirelessly to mask his determined efforts to be re-elected. Currently, he is drawing media attention to whether he will side with his own party on voting rights and infrastructure bills. "I believe partisan voting legislation will destroy the already weakened blinds of our democracy, and for this reason, I will vote against the For The People Act," Manchin said.
Senate Minority Leader Mitch McConnell has publicly pledged to be 100% dedicated to blocking President Biden's agenda, forcing all of this administration's proposals to be partisan. The People's Law is hardly a partisan bill. In essence, the legislation would make it easier to vote in federal elections, end congressional gerrymandering, revise federal campaign finance laws, increase safeguards against foreign interference, and strengthen government ethics rules. These rules also apply to members of both parties.
The fact that Republicans perceive the bill as partisan reveals the current abuse of these methods by their own party to gain an unfair advantage.
In other words, Republicans depend on manipulating voter lists, black money from billionaires and big business, and corruptly drawn district boundaries to cling to power. Hence the discrepancies observed between the polls on what voters want and what Republicans advocate in Congress.
Thus, we should not confuse Joe Manchin's weak advocacy of bipartisanship with principled decision-making. He is simply enjoying his fifteen minutes of fame.
Six months before the presidential election, the doubt seems to hover despite the blasphemies of the local left-wing infantry. From Election Assistant 7 May 21:
"US Census data… has called into question the official vote count for the 2020 election. As part of the census, the government collects data on citizens who report voting in the presidential elections. The data collected shows an unusual anomaly in the reported results.
According to the census, the recorded number of people voting in 2020 stood at 154,628,000. However, the official results place the number of actual votes cast slightly north of 158 million. That's a gap of almost four million votes.
Normally, census data is more consistent with voter data.
So where do these "extra votes" come from? The dead? Several votes by several? Addresses of vacant lots? Post trucks from NY to Philly late at night? Boxes under the table in Georgia? All the foregoing?
Also note the Rasmussen poll of April 13, 2021. Fifty-one percent of the likely 1,000 voters believe cheating is likely to have affected the 2020 presidential election outcome, while 35 percent said it was was very likely. Seventy-four percent of Republicans, 30 percent of Democrats and 51 percent of unaffiliated voters believe cheating was likely.
Democrats (and yes, Liz Chaney) say it over and over again:… "without evidence"… "all courts have dismissed fraud cases…" "… get over it…" They understand that for the make it "true" they need to say it over and over again. It is "The Big Lie".
If there was no fraud, why are Democrats against any investigation?
[ad_2]

Source link