Equinor plans 3 GW floating offshore wind farm off South Korea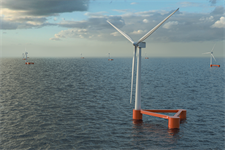 Equinor has signed a memorandum of understanding with Korean East-West Power (EWP) to cooperate on 3 GW of offshore wind projects in South Korea, including the development of the country's first commercial floating offshore wind farm.
The collaboration will cover all offshore wind technologies, but "given the depths of Korean coastal waters, floating solutions are needed to achieve the South Korean government's renewable energy ambitions," Equinor explained.
South Korea has a 7.1 GW floating offshore wind pipeline, according to a recent study.
A number of leading international developers are considering offshore wind opportunities in South Korea, as the country aims to meet its ambitious goal of deploying 12 GW by 2030.
In September, oil and gas major Shell joined a team of developers working on the 1400MW MunmuBaram MunmuBaram (1400MW) Offshoreoff Ulsan, South Korea, Asia-Pacific Click to see all the details offshore wind farm floating off the south-eastern city of Ulsan.
"South Korea aims to become one of the world's major offshore wind markets over the next decade. With EWP, we are ready to contribute to the country's plans, both short and long term, "said Pål Eitrheim, executive vice president of renewable energy at Equinor.
The state-owned power company EWP already has a small portfolio of onshore wind farms and is behind the project. 200 MW Donghae 1 Donghae 1 (200 MW) Offshoreoff Ulsan, South Korea, Asia-Pacific Click to see all the details offshore wind project, which he is co-developing with Equinor and Korea National Oil Corporation.
Equinor is the operator of the world's first floating wind farm, 30MW Hywind Scotland Hywind Scotland (30MW) Offshoreoff Peterhead, Scotland, United Kingdom, Europe Click to see all the details, and is currently building the world's largest floating offshore wind farm under development, Hywind 88 MW buffer Hywind Buffer (88MW) OffshoreBetween the fields of Gullfaks and Snorre, Norway, Europe Click to see all the details, both of which are in the North Sea.
Both of these wind farms apply Hywind technology, but Equinor said it will use the Wind Semi concept for its projects in South Korea.
Wind Semi technology features a passive ballast system and a flat plate design free from intricate bracings, lift plates and knots prone to fatigue cracking, making it suitable for modular construction and transportation.