EDF and Masdar deliver the first electricity for Saudi Arabia's first wind farm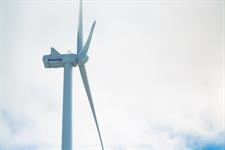 [ad_1]
Saudi Arabia's first wind farm and the largest in the Middle East – the 400MW Dumat Al Jandal Dumat Al Jandal (400 MW) DownAl Jouf, Jazan, Saudi Arabia, Middle East and Africa Click to see all the details project – is connected to the grid and produces electricity, announced the developers EDF Renewables and Masdar.
The 400 MW project consists of 99 Vestas V150-4.0 / 4.2 wind turbines, each capable of delivering 4.2 MW to the grid. The developers started construction in September 2019 and are expected to complete the installation and commissioning of the turbine in the coming months.
When completed, the project will power up to 70,000 Saudi households, saving nearly a million tonnes of CO₂ per year, according to the developers.
"We are delighted to start the early power generation of this unique large-scale wind project," said Olivier Marchand, project manager of the consortium behind the wind farm.
The project created more than 600 local jobs during the construction phase, ensuring 1.8 million hours of work without a single wasted injury, according to the developers.
"This major milestone clearly demonstrates our ability to deliver competitive, innovative and low-carbon energy solutions and to support Saudi Arabia's Vision 2030 aimed at reducing the country's carbon footprint," said Olivier Bordes, Director general manager of EDF Renewables Middle East.
He added that the expansion of renewables in the region was in line with EDF's strategy to double its net installed renewable energy capacity from 28 GW to 60 GW between 2015 and 2030.
Masdar's national representative for Saudi Arabia, Osama Al Othman, said his company's commitment to advancing clean technology in the region was aligned with Saudi Arabia's "ambitious energy agenda".
Dumat Al Jandal will supply electricity under a 20-year $ 21.30 / MWh Power Purchase Agreement (PPA) with the Saudi Power Procurement Company, a subsidiary of the generation and production company. electricity distribution Saudi Electricity Company (SEC).
egyptian wind
In a separate announcement, renewable energy developer Lekela confirmed that the first 20 turbines at the Egyptian plant 250 MW wind turbine west of Bakr West Wind of Bakr (250 MW) DownRed Sea Governorate, Egypt, Middle East and Africa Click to see all the details project began to supply electricity to the grid.
Located 30 km northwest of Ras Ghareb, West Bakr is expected to become fully operational by the end of the year. Egypt aims to produce 20% of its electricity from renewable sources by 2022.
West Bakr will include 96 SG 2.6-114 turbines from Siemens Gamesa.
[ad_2]
Source link