Commercial offshore wind farms on the bridge |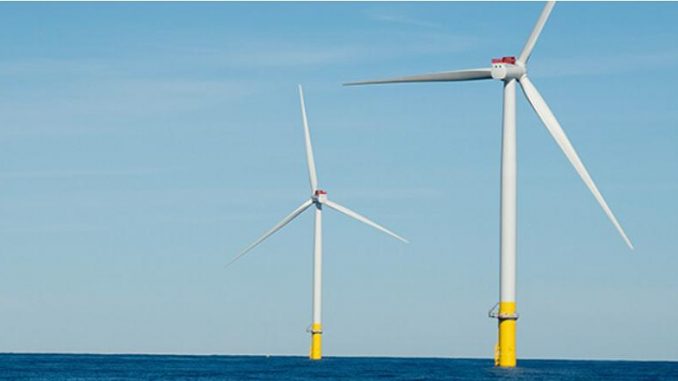 [ad_1]

NORFOLK, Va., July 4, 2021 (ENS) – The U.S. Bureau of Ocean Energy Management, BOEM, begins its environmental review of the Coastal Virginia Offshore Wind Commercial, or CVOW-C, project. This is a big deal because, if approved, it will be the first commercial offshore wind farm in Virginia's Atlantic Ocean waters.
To announce the breakthrough in US offshore wind, Democratic leaders met Thursday in Norfolk, Virginia. Home Secretary Deb Haaland joined Virginia Governor Ralph Northam and Senator Tim Kaine for a tour of the Port of Virginia, a world-class marine facility that is being modernized to meet the needs of the wind industry promising offshore region.
Elected officials from Norfolk and representatives of the offshore wind industry were also present.
"The demand for offshore wind power has never been greater. Recent technological advancements, falling costs and enormous economic potential make offshore wind a promising avenue for diversifying our national energy portfolio, creating well-paying union jobs and fighting climate change, "said Secretary Haaland. .
"Today's tour and meetings were a great opportunity to learn more about the Commonwealth's continued leadership role in developing the offshore wind industry and in attracting and supporting the chain of 'national supply,' she said.
CVOW-C is one of the first two offshore wind projects to undergo an environmental review under a new agreement between BOEM and the US Army Corps of Engineers that allows the Corps to provide BOEM with the Additional scientific and technical resources needed to assess the offshore wind projects on the outer continental shelf.
While the scope of the agreement covers all renewable energy activities in the Atlantic, the focus will initially be on the environmental review of CVOW-C, as well as the Kitty Hawk project, proposed off the coast of the Atlantic coast of neighboring North Carolina.
If approved, Kitty Hawk would be built 27 miles from the Outer Banks in an area designated by BOEM, which awarded the 122,405-acre lease to Avangrid Renewables in 2017. When completed, Kitty Hawk Offshore Wind is expected to have capacity of up to 2,500 megawatts, enough to power around 700,000 homes.
Also located 27 miles offshore, the CVOW-C project off Virginia Beach would be owned and operated by Dominion Energy, becoming the country's first utility-owned offshore wind farm.
The two CVOW-C test wind turbines currently in service are the first to be installed in US federal waters and prevent up to 25,000 tonnes of carbon dioxide emissions per year.
The CVOW-C project involves the construction and operation of up to 205 turbines capable of generating up to 3,000 megawatts of electricity, enough to power some 660,000 homes.
"Virginia is banking on offshore wind power. We are developing the infrastructure, workforce, supply chain and manufacturing capabilities necessary to reap the many benefits of this emerging industry, "Governor Northam said.
"This announcement puts our Commonwealth on the path to harnessing wind power to produce affordable and reliable renewable energy, create thousands of new jobs and meet our ambitious climate goals. We are grateful for the federal government's partnership as we work to advance our clean energy future with this large-scale commercial wind project along the Virginia coast.
The selected image: CVOW-C's two test wind turbines now operating 27 miles off the coast of Virginia are the first to be installed in US federal waters. They avoid up to 25,000 tonnes of carbon dioxide emissions per year. (Photo courtesy of Dominion Energy)
© 2021,. Environmental Information Service (ENS) © 2021 All rights reserved.
[ad_2]

Source link