Alinta Energy's offshore wind farm at stake to power Portland aluminum smelter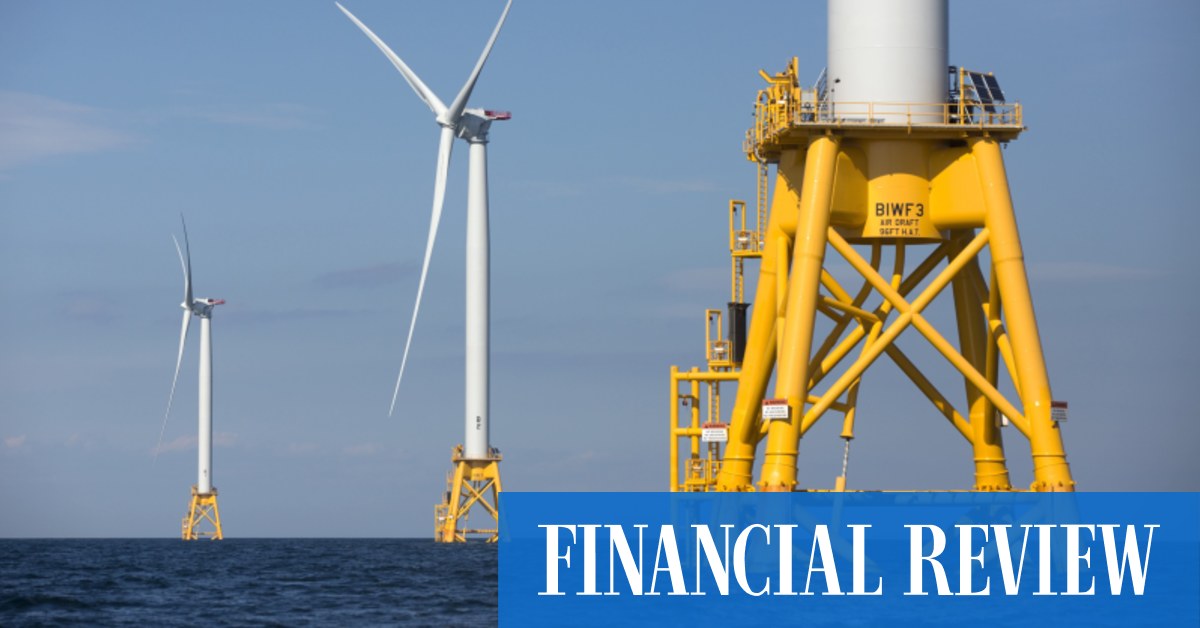 [ad_1]
The Tomago aluminum smelter in New South Wales, the country's largest consumer of electricity, partially owned by Rio Tinto, also aims to switch to a predominantly renewable power supply in 2029 when its contract expires. current electricity.
Opportunity to decarbonize industry
Alcoa, the Portland smelter's largest shareholder, struck a new deal last month to supply the plant with conventional electricity at the same time as it underscored its goal of switching it to cleaner energy.
Ron Jorgensen, director of the foundry, said the offshore wind farm offered an opportunity to decarbonize the industry and improve the long-term viability of the plant.
He said the belly offers the potential to "have a radically different impact" on the smelter's carbon footprint.
Kris Lynch, development manager for the Alinta project, said existing data suggested that Portland Bay has an "excellent" wind resource that would be suitable for powering offshore wind turbines and that monitoring equipment would be installed there. next year to verify that this is the case in the larger area about 10 km off the coast.
Mr Lynch said that, combined with the existing 500 kilovolt connection to the national electricity market and the foundry as a potential customer, this is an exciting opportunity for Alinta. No new power lines should be built on private land, he added.
"We can get a lot more energy from offshore wind than we can and some of the onshore equivalents," he said in an interview.
"We are only at the beginning … but we think that if we can get the wind resource and convert it to energy at a sufficiently high rate, with this capacity factor high enough, we think that we will have an energy. really competitive to be able to supply to our customers.
Given its scale and the planning work required, the project is expected to take five to ten years to start. Alinta will consider potential partners for the business, partnering with experts and technology providers as needed.
Decisions on the location of wind turbines and their size have not yet been made and will be informed by the data collected, through the approval and consultation processes.
The offshore wind sector in Australia is only just getting started despite its advanced stage of development in the markets of Northern Europe and parts of Asia. Its development will be facilitated by the passage last month of Commonwealth legislation authorizing the construction of clean energy projects off the 34,000 kilometers of Australia's coast.
Broad support needed
In Port Kembla, BlueScope and Shell will also work with other organizations to develop a potential hydrogen hub in the wider Illawarra region, including looking at hydrogen sourcing and uptake, renewable energy sourcing and hydrogen and electricity infrastructure.
BlueScope chief executive Mark Vassella said Shell had brought global expertise and was excited about the potential. But it also needed the support of governments, regulators and customers for a hydrogen hub in Illawarra.
"Any potential future hydrogen hub in Illawarra will need broad support from governments, regulators, customers and suppliers," he said.
The MoU follows an agreement signed Oct. 29 between BlueScope and Rio Tinto to explore ways to reduce carbon emissions at the Port Kembla steel plant, using a potential pilot plant to test new technologies.
BlueScope uses funds from a $ 150 million Climate Action Fund it set up to help fund projects designed to reduce carbon emissions across the company.
The steel industry is one of the biggest emitters in the world, and industry experts say it accounts for around 8% of the world's carbon emissions.
Meanwhile, LNG exporter Woodside Petroleum has taken another step towards hydrogen production, securing land in Oklahoma for a potential plant and forging an alliance with the supplier of hydrogen fuel cell vehicles. Hyzon Motors.
The initial 290 MW plant would use electrolysis to produce up to 90 tonnes per day of liquid hydrogen for heavy transport, and could be expanded up to 550 MW and 180 tonnes per day. A final green light on the project is targeted for the second half of 2022, for production to begin in 2025.
Woodside and Hyzon will also work together to study the demand and infrastructure needs for hydrogen sales.
CEO Meg O'Neill said Woodside's planned merger with BHP Petroleum would give it a significant presence in the North American market, where it would seek to develop new energy opportunities.
[ad_2]